scenes from the start of the ride
We had the worst weather from start to finish in the 6-year history of Audax Randonneurs Philippines. It was raining very hard at the start of the ride and we all had to endure the ankle-deep flooding at the start. It was pretty sketchy starting a bike ride in the dark, with flooding on the roads and not knowing where the potholes are. The rain was relentless as it practically rained all throughout the ride. I've never seen this happen before. I heard a lot of people who had mechanical issues during the ride (from being forced to use a single-speed, front derailleur problems, multiple tire punctures, and many more!). My husband had to abandon the ride as he was feeling sick when we arrived at the first checkpoint and I was forced to abandon my 300km audax buddies. (Sorry, guys! My mantra has always been, "Marriage over cycling!") We had a couple of accidents and even one of the biggest to date. Mr. Nelson Negrite was already in Castillejos as he was hit by a 6-wheeler truck from behind and was even dragged for a few meters. :( (Update: He has already undergone 2 surgeries for titanium implants and is now recovering. He said he can't wait to be biking again!)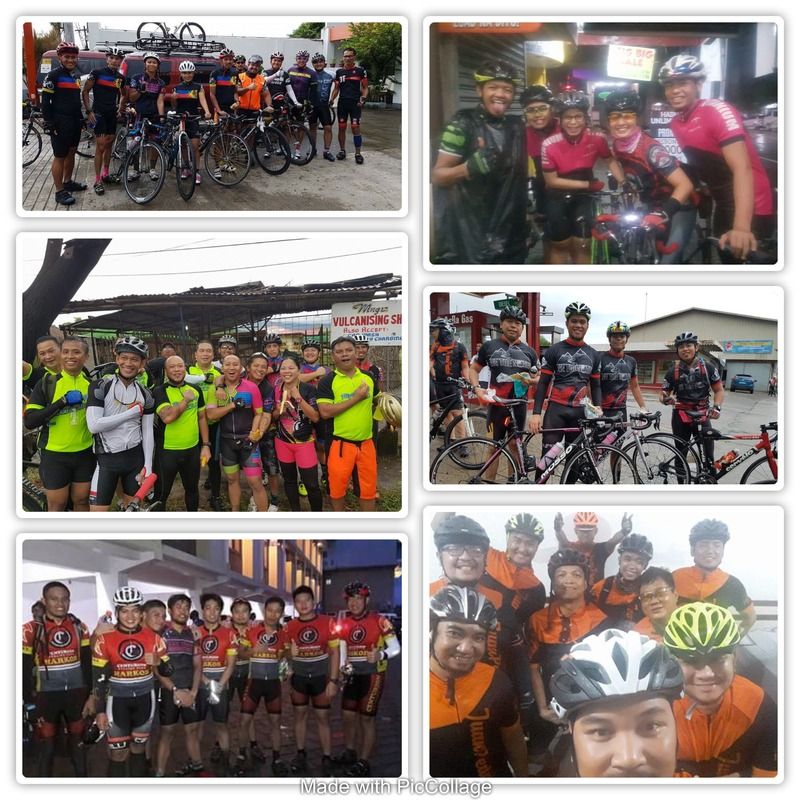 happy people in the audax :)
But the spirit of audax riding was alive last weekend. At the beginning of the ride, I was already warning everyone that if they are not confident riding through the rain, they can back out and I would be happy to return their money. No one was budging. I was very impressed. In fact, I even heard shouts of glee as people cycled through the rain. The many photos and videos shared showed that a lot of randonneurs found joy in the challenges that came their way during the ride. The people I saw at the checkpoint in Cabangan were just full of positive energy ready to tackle the rest of the distance. I heard so many stories of people helping their fellow riders.
audax riders in action!
I saw a lot of old and new faces who are all inspiring in my book. Kenneth Romero rode with his 60-year old father, Gaspar Romero, and tackled their first 200km distance together on their Fat Bikes! Randonneurs are getting better and better as I saw the 300km Audax record broken by 17-year old Joshua Mari Bonifacio with a time of 9 hours and 34 minutes (inclusive of all 4 control point stops and with pedal problems!). We have some new additions in the Couples Who Audax section that are just truly inspiring for those who want to try the audax with their better halves. Everyone, and even those who didn't finish within cut-off, braved the elements last Saturday and showed a lot of mental and physical toughness. I couldn't be any prouder.
epic ride finishers!
As we close the 2016 Audax season, I would like to commend the 56 Super Randonneurs from the Philippines duly recognised by Audax Club Parisien. These men and women have officially completed the Audax series (200km, 300km, 400km and 600km rides) well-within the 2016 season. There are only a few Super Randonneurs in the country and I am very proud to have known each one of you. To date, we also have 506 Audax Addicts, individuals who have 2 or more official audax rides under their belt. Congratulations! :)
epic ride finishers!
Before I end this post, I would like to thank each and everyone who joined me on that fateful Saturday morning where we had the harshest weather conditions at the start of the ride. Thank you to the David's Salon crew who worked tirelessly and have been up for more than 24 hours to ensure everything is all ready and all control points are covered. Thank you to our very own Delfin Garciano who watched over Mr. Negrite in the hospital until his teammates arrived. Thank you to David Charlton for his unconditional support for Audax Philippines. Thank you to Ms. Jola Gonzales, who is enjoying her well-deserved vacation in Eruope, for helping in the preparation. We felt the love even if you are not with us physically. Last but not the least, thank you to my girls (Vany Bandoy Hans, Rachel van Klaveren, Annie Fallorin Abdon, Shai Dionela and Pebrero Dos) who helped in the registration and in welcoming all the finishers. :)
audax finishers!
Rest and recover well, randonneurs! And see you in December! :)
P.S. More photos can be found
HERE
.
P.P.S. Photos from the cameras of Alvin Quilingan, Clarisse Marte, Cyrk Ryan Lim, Don Fernando, Ed Ambida, Eleazar Samalca, Ferdinand Bautista, Hatta Dimaporo, Jason Delos Reyes, Jay-R Zapco, Jeremy Deanon, Jonas Bernales, Jonathan Miranda, Jonnel Cruz, Jose Trini Evangelista, Julius Buen, Jward Cruz, Kenneth Romero, Lito Anchores, Maynard Choi Degollacion, Carmela Pearson, Michael Lafuente, Onez Suena, Patrick Duruin, Patty Bellido, Rebecca Reyes, Rainier Paywan, Rey Baldwin Hernandez, Rick Tamayo, Russel Perez, Ryan Macalong, Sean Ilaguison and Shindee Franco
We have just concluded the last Audax ride for the 2016 season (October 31, 2015-November 1, 2016). We had a total number of 274 registered participants. 133 out of the 159 participants finished the 200km audax while 107 out of 115 finished the 300km audax well within the corresponding cut-off times.