The past few days and weeks leading up to the new year have been "crazy-busy" for my family. We were attending one function after the other. Since my husband loves cooking and entertaining, we also hosted a couple of lunches and dinners at our humble home. We managed to squeeze in a 4-day getaway with my visiting Singapore-based sister and her family. Up to New Year's eve, we had friends over to see the amazing fireworks from our windows. Having a corner unit on the 33rd floor has its perks. We can see fireworks from Cainta, Pasig, Makati, Greenhills, Eastwood and Quezon City. :)
new year's eve with these amazing friends
Needless to say, I didn't get to reflect much on the year that was until this morning (while the husband and the little one are still asleep). 2016 was a busy year for me on all fronts - work, travel, friends, sports and family. Work-wise, we reached our booking targets every month in 2016 and have exceeded our net income significantly compared to that of 2015. I took on more work this year as I now head both Treasury and Corporate Banking. I am still the Chief Financial Officer and happy to report that we have been diligent in presenting accurate financial reports month-on-month that has helped shape the direction of the company. We are very much clear on where we want to go in 2017 and I can't wait to start working on that. Another point worth commending regarding work is that the staff is in a good place right now. I've always believed that if we take good care of our people, the company will be in good hands. The morale at the office has been great. People are working well and need not be micro-managed. They all have initiative and "malasakit" (Filipino for "genuine care") for the company. :)
the little ones enjoying the fireworks :)
Travel wise, I think I did well this year. 2016 is still nothing compared to 2011 where I probably had at least 30 flights in a year. 2016 was "tamer" but still racked a lot of miles as I traveled to Thailand, Singapore, Indonesia, the United States, France, the UK and Vietnam. Each trip was quite memorable. Thailand was where Colin and I cycled 800km to raise funds for Effective Aid International. Singapore is where I reconnected with my Singapore-based cycling team. Indonesia is where I did the qualifying race for the Campagnolo Gran Fondo New York. The US is where my entire family witnessed my brother's graduation. He made us all proud by finishing at the top of his class. The days leading up to the graduation and even after that was spent creating great family memories that we will surely fondly look back to. Our trip to the UK was a great reunion with Colin's side of the family and our good friends, Kevin and Sue, whom we spent lovely days in Marlowe and going around Cliveden Gardens. France was special this year as I finished the Gran Fondo Marmotte with my husband, Vany and Pascal. It is still one the toughest rides I've ever done in the alps and definitely worth the trip. Exploring Lausanne, Switzerland (the seat of the Olympic headquarters) and Alsace with Vany's family exceeded our expectations as they were just lovely places. Colin and I vowed to go back in Alsace with Bella on one of our Christmas holidays in the future. :)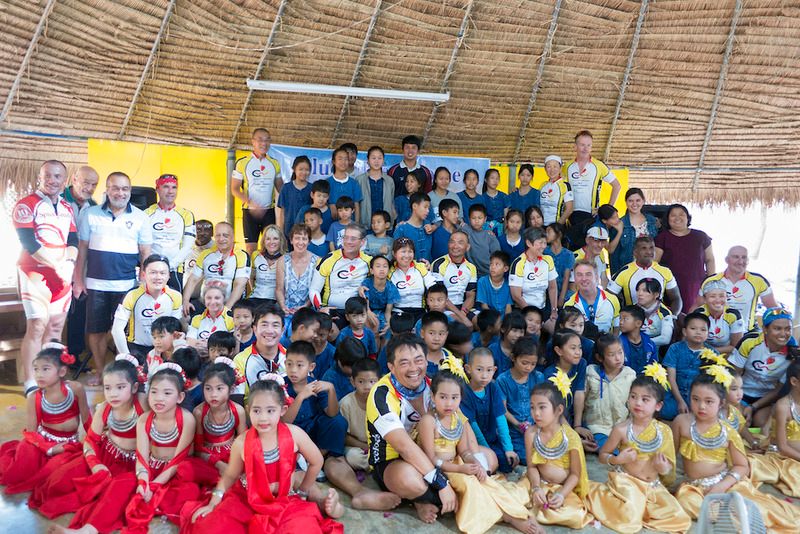 with the beneficiary of Effective Aid International, the children of Baan Fah Sighy
Domestic travels were equally nice as I was able to visit the Cordillera region, Bohol, El Nido, Davao and General Santos. We explored Sagada and the surrounding area on our bikes. I did 2 trips to Bohol - one for Giro D Luca and one for the 5150 Bohol triathlon - both events are more like "staycations" than a "race weekend". Travels to Davao and General Santos were all pleasant and necessary for my Audax advocacy. If I were to choose my favourite local trip in 2016, it would be the wonderful 4 days and 3 nights I spent in El Nido's Pangulasian Resort with Colin and Bella. We loved every minute of that trip and got to bond as a family even more. Up to now, my little one tells me that she wants to go back to "Palawan". :)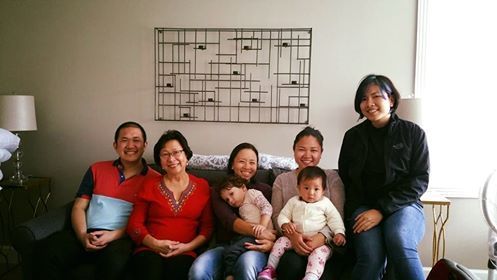 sweet reunion in the US: the Serinas are complete again!
If there's one thing I've learned in the past few years, it is to put a premium on great friends. I'm not a very sociable person and I keep my private circles small. I made it a point to see my close high school friends regularly. Ninin, Carissa and I managed to see each other at least once a month. I caught up with Chewy, my Canada-based friend, who I consider one of my closest friends when I was still working in Hewlett-Packard. Even if KC has been based in Singapore for the past 6 years, we made it a point to see each other whenever possible. I also managed to reconnect with my sorority batch mates from the university as we all seem to be on the same page in our lives right now. For the first time, I hosted a baby shower for a friend. I spent 3 awesome days of cycling in the Cordillera region with my close circle of cycling friends where we cycled in La Union, the Mt. Province, Ifugao and Benguet. The Makati lunch gang was formed where it's nice to see my athlete-friends outside of our usual lycra clothing. I reconnected with my Singapore-based cycling team and managed to do a training camp in Bintan with them and a race in Lombok, Indonesia in October. Happy to report that Team David's Salon is more solid than ever and I couldn't have chosen better team mates than our current roster now. :)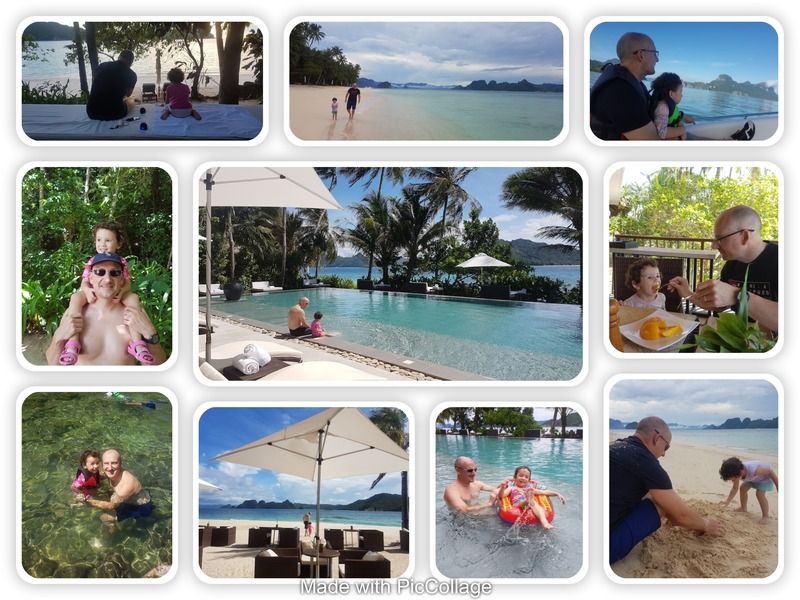 El Nido was definitely my favourite domestic trip in 2016!
2016 marked my comeback to triathlon. Being part of Team David's Salon, we are committed to do at least 2 multisport events in a year. I committed myself to do Challenge Vietnam (a half Ironman distance triathlon in beautiful Nha Trang in September) and the Bellevue Hotel 5150 in Bohol (an Olympic distance triathlon in November). Needless to say, the level of my love for cycling is nothing compared to triathlon. I never dare call myself a triathlete as I know I won't give it justice. I still can't find the love to run and my dedication on the 3 disciplines are not equal. Despite that, I enjoyed the good and bad of racing Challenge Vietnam and the 5150 in Bohol as I believed it made the team closer. More than anything, I'm glad to have done those races to give support to my team mates. :)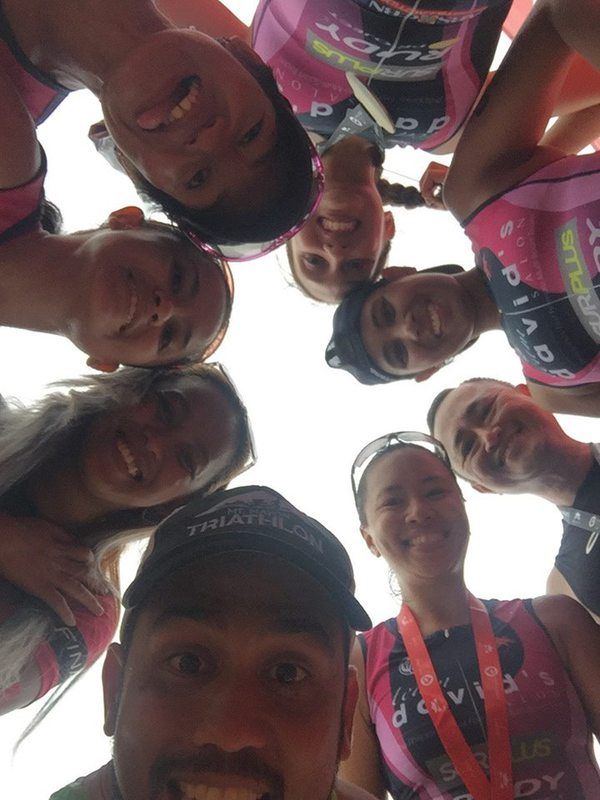 my Challenge Vietnam family :)
Sports-wise, I managed to organise 13 audax rides in 2016 in 3 different locations - Subic, Rizal and Davao. The Audax family is definitely growing with an average year-on-year rate of 103% for the past 6 years. I am still quite overwhelmed with the numbers but rest assured, I promise to keep these rides low-key and non-commercial to make Audax Philippines sustainable. I wanted the participants to join this because of the core values why we love cycling long-distances in the first place. We witnessed the biggest audax ride with 446 participants last December. I started doing a recon in Gensan and I'm happy to report that we will be holding the first Audax in Gensan in 2017! To date, I've done around 26 official audax rides and PR'd in the 400km audax distance finishing in sub-16 hours. I am definitely looking at racking more miles in the future audax rides and encouraged to keep pushing the numbers!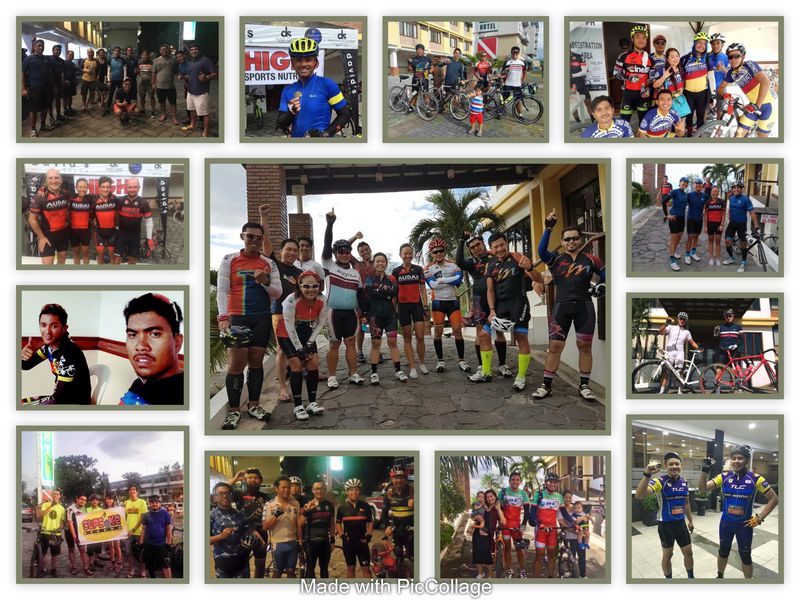 the happy people of the audax!
I finished 2 Gran Fondos in 2016 - the Gran Fondo Marmotte in the French Alps and the qualifying race for the Campagnolo Gran Fondo New York in Lombok, Indonesia. Both were tough races and I was happy to win my age group (18-35) for the female category for the GFNY Indonesia leg. This opened my eyes to what Gran Fondos are (as how the Italians really do them) and I have already signed up to at least 2 official UCI Gran Fondos outside the country for 2017. I can't wait to experience all that and get to write about them too! And speaking of races, we have registered a 4-man mixed relay team to compete in Race Across America 2017, dubbed as the toughest bicycle race in the world. Team David's Salon will be the first 4-man relay team to join this race from South East Asia. I am both scared and excited about this. At the very least, it will be one great cycling experience. :)
happy to win my age cat @ the Gran Fondo New York qualifying race in Lombok
Family-wise, Colin and I celebrated our 3rd year wedding anniversary in our new home. Moving into our own home was a big milestone early in the year and we love everything about it. We have put a lot of thought on how we wanted our house to be renovated and we have been pleased with the results. Ever since we moved in, we have been looking forward to getting home from work every single day. It's not just a house but we consider it our very own sanctuary. Even Bella knows the difference between Nana's house and her own house. It's nice to see that she has a good grasp of what "home" is at a very young age.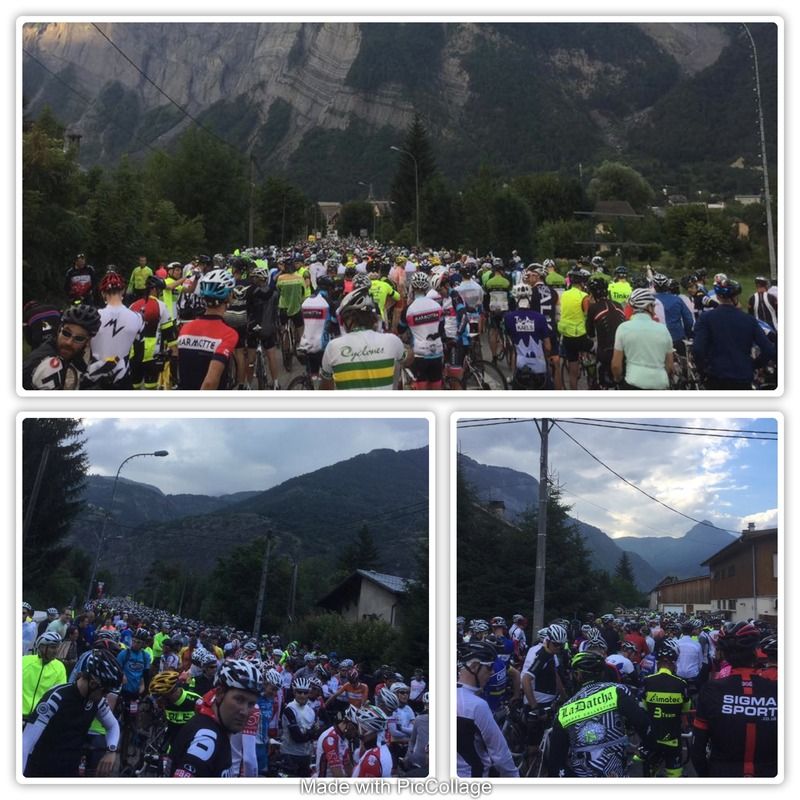 at the start of Gran Fondo Marmotte 2016
Colin and I managed to have our "couples" time away from work and the little one. I am a strong believer that the best gift we can give our daughter is a good strong marriage and these little "getaways" really help. We managed to cycle 800km in 8 days from Ayuthaya to Chiangmai to raise funds for Effective Aid International. We had about 2 weeks in Europe where we raced the Gran Fondo Marmotte with friends and explore the beautiful Alsace region in France. We had some time in the UK and explored Marlowe and the Cliveden Gardens with our good friends. I also managed to surprise the husband when I brought him and Bella to El Nido, Palawan. He was blown away by the beauty of the place and we enjoyed the 4 days of peace and quiet. Needless to say, we realise that we love these kinds of vacations and plan to do more of these in 2017.
the Pearsons in El Nido, Palawan
The little one is growing up very fast and 2016 was the year we entered her to a proper pre-school. The first 2 weeks were a struggle as it was always a cry fest just getting her to school. However, she adjusted after 2 weeks and I was the one who was actually having some separation anxiety. I am being bugged by the family to have another baby but that's a totally different story... something that I'm not ready to discuss about yet. *wink*
Whew! And that basically wraps up my 2016! It was definitely "crazy-busy" but I have no regrets. It has been an amazing year. 2017, bring it on! :)