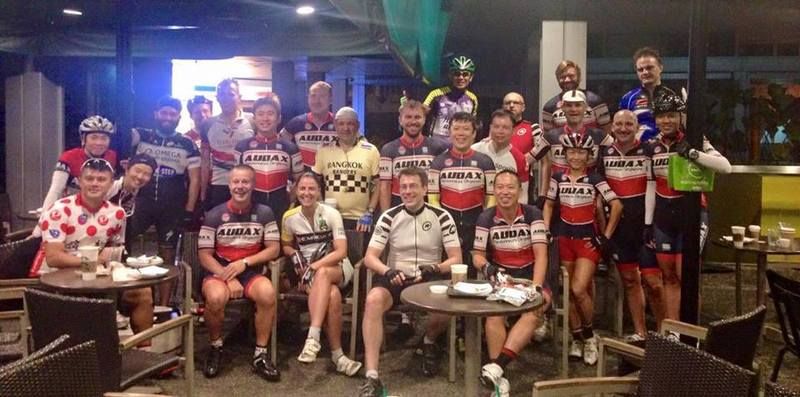 the brave souls of the 400km Audax in Singapore
Colin worked at the Deustche Bank office in Singapore on Friday which left me by my lonesome to do some errands. I had to buy Colin some lights, buy some snacks for the ride, meet up with a friend, build the bikes (yes, Colin was very proud of me!) and read through some work emails. I caught up with Colin at Brewerkz for dinner. This has been our favorite pre-Audax dinner place in Singapore as I just love their ribs!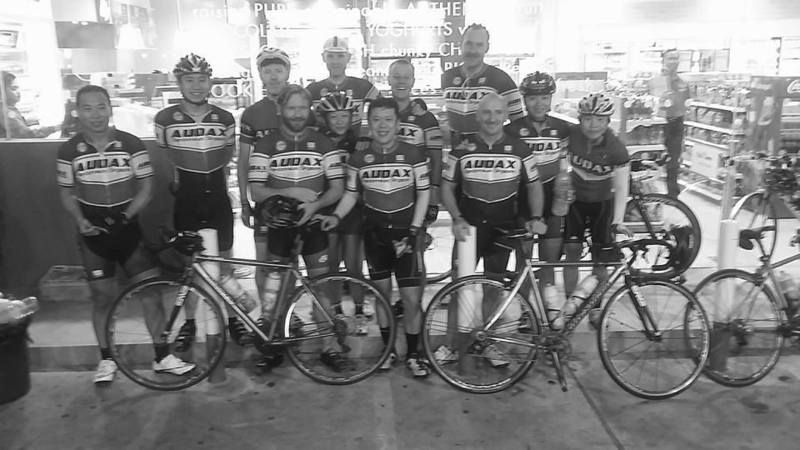 proudly wearing our Audax Singapore cycling kits =)
We were up by 3:30am and cycled to Starbucks at United Square to have a relaxing breakfast at 4am. It was nice seeing old and new faces in the Audax Singapore scene and it seems that most have aspirations to do Paris-Brest-Paris this August. We rolled off at 5:30am to the Malaysian border. We did the usual passport control and immigration queuing. The group stayed together until the 110-kilometer checkpoint.

beautiful riding in Malaysia
Most of the riders just did a very challenging 300 kilometer Audax last weekend and the plan was just to take it easy. But alas, this plan never materialized after the 110-kilometer checkpoint. The moment we hit the hills, most people started attacking. I was partially guilty of this at the beginning. Thank God for Patrick Williams and my husband who both told me to hold my horses. Temperatures last weekend peaked to 45 degrees and this weekend was no different. They reminded me that we have a long way to go and the important thing is to finish strong. I let the others go at this point and stayed with Patrick, Shirley and my husband. I was still feeling strong at this point but I know it would be foolish to go out too fast this early.

dinner at Spizza in Punggol after riding 315 kilometers
I started feeling some leg cramps on the 120km mark. I slowed down a bit and took some saltsticks right away. I was lucky that the cramps went away after 5 minutes. I reminded myself to be more mindful of my nutrition and hydration from this point onwards. As we near noon, temperatures rose up to 43 degrees Celsius. It was so hot that when temperatures dropped to 40 degrees, it felt like a blessing. Colin and I rode with Patrick as he has proven to be the most sensible ride leader we've ridden with. He led a big group of us back to Singapore. =)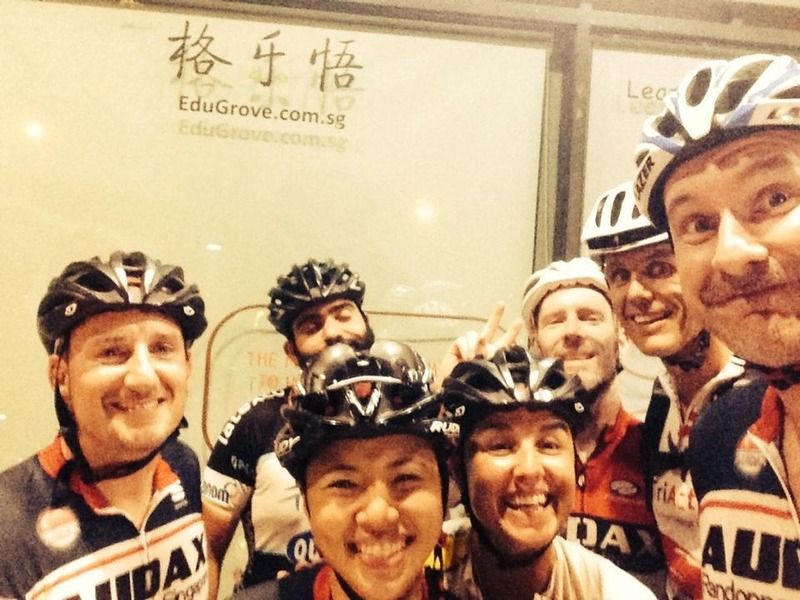 our amazing group doing a "groupie" at the 342 kilometer point
At 315km, we found ourselves in the Punggol area, hungry and looking forward to a sumptuous and much-needed dinner. We were initially looking forward to a nice dinner at Jerry's but was warned by the fast audax group that it took more than 1 hour for their food to be served. We then went to the Prata place just nearby and was told that we can't leave our bikes lying around. They even told us not to put the bikes on the sidewalk (not that they have jurisdiction over the sidewalks!). I thought that this kind of discrimination only happens in Manila but apparently it is quite rampant in Singapore. Patrick was about to lose his temper but Andrew was right in saying that we don't want to waste our energy with people who have no f*cking idea of what we just went through. This small mishap turned out as a blessing in disguise as we managed to have a nice dinner at Spizza, a small pizza place just a few shops down the Prata place. Not only were their pizza good, the service was fast and the staff of mostly Filipinos were very accommodating. They were bringing out cold pitchers of water one after the other as they know we need them very badly.

and we can still manage to goof around!
At this point, there were only 8 of us… I would call this the core group as I discovered that we all share the same sentiments about the ride. It is nice to be with like-minded people after a gruelling and torturous 315 kilometers. Each and everyone in this core group was working and pulling (although being such gentlemen, they only let the women pull very shortly). No wheel suckers here! You need these kind of people when you're tired and about to do an RTI ('round the island) after dinner. It was surreal riding through Changi strip on a pace line at 11pm then going through Nichols at midnight. I remembered the countless RTIs i did prior to giving birth and hoped to be doing them again.

flying back to manila the next morning… what a great weekend!
I ended the 400km Audax with an average moving speed of 28.15 kph and elevation gain of 2,878 meters. Total time for the ride inclusive of numerous stops, long lunch and long dinner is 19 hours. I am pretty pleased as we managed to do the 400km ride under the 20-hour cut-off time of the 300km Audax. =) Colin and I were fine after the ride. I even pumped milk for my little one before going to bed. We were up and about early the next day as we got ready for our 12:55pm flight back to Manila this morning.
Anyway, thank you Audax Singapore for another great ride. Thanks to Patrick Williams for the great riding leadership. When he told me to hold back, I knew I needed that reminder to finish strong. Thanks to the core group I rode with after dinner… Andy Bennett, Andrew Philippou, Mat and Neridah Lock, Patrick and my dear husband, I could not have ridden it better without you guys! You were all fantastic in my book… great in terms of pacing, physical strength, riding integrity, cycling ethics and mental toughness. I am definitely looking forward to riding with you guys again! Mat and Ned, the couple who did Race Across America, you are just inspiring! Special thanks to my husband who has been my number one supporter on these crazy rides that I've been itching to do. I know that he has been quite stressed and working long hours but you always support me no matter what. I really appreciate it. *wink*
Until the next Audax adventure! =)
*** photos from the cameras of Jeff Paine, Carmela Pearson, Neridah Lock, Patrick Williams and Kevin Tan
As I write this, I am now back in Manila in the comforts of our home. Last Thursday, we flew in as I really wanted to do the 400km Audax in Singapore. While I love the audax rides I have in the Philippines, doing it in Singapore is just simpler for me. I don't have to worry about organizing and I can just focus on the ride itself. It helps that the guys behind Audax Singapore are good friends of mine and are just awesome people to be around with. =)
My first ever Audax ride
was done in Singapore and it was an amazing experience. Without the support of these guys from
Audax Randonneurs Singapore
, I wouldn't have been able to bring Audax to the Philippines. I've suffered with some of these guys as well in 2011
when we did Paris-Brest-Paris (PBP)
. I was so excited to reconnect, catch up and exchange thoughts about PBP 2015.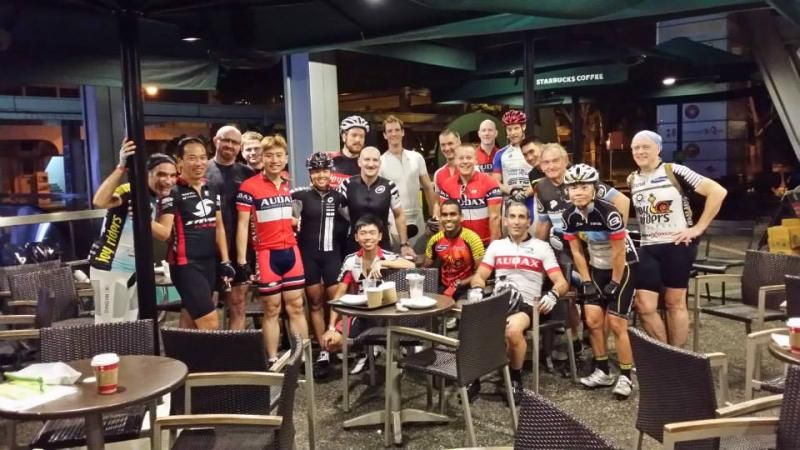 the 25 brave souls at the start
The moment I cycled out of my hotel at 4:15am, I can't help but have great appreciation on how beautiful the Singapore roads are... well-lit, smooth pavements and wide roads. I remember the days when I would cycle around the city during rush hour and would still feel pretty safe. How I wish I can feel that way in Manila. Anyway, we all met up at the Starbucks in United Square near Novena mall. It was the perfect starting point as the venue is open for 24 hours. I managed to have a nice breakfast before I set off with the rest of the 25 brave souls who wanted to do the 300km audax that day.
everyone literally stopped for me when I had my first flat... really appreciate it!
We started off with the usual steady pace inside the city. I've forgotten how strong these guys are. I didn't have to be in front and pull the group in the first leg of the ride. This isn't usually the case in the Philippines. =P Anyway, in the first few kilometres, we passed by Longhouse, or rather, where the famous hawker centre used to be. This was one of the most famous starting point for a lot of cyclists in Singapore. I've started and ended a lot of epic rides in the past from this place and I can't help but feel nostalgic.
some shots during the ride... thanks Lawrence! =)
One unique feature of the Audax Singapore rides is the crossing to Malaysia. It is then imperative that one brings his/her passport during the ride. It can be quite sketchy in Malaysia so I had my passport inside my jersey instead of my jersey pockets. Since I didn't want to hold up the group, I made sure I filled up the proper arrival and departure cards for immigration. One also has to carry the necessary monetary currencies and have the proper insurance coverages. And since Malaysia is unfamiliar territory for me and Colin AND I don't know if I can keep up with these guys, I had the strava route uploaded to my Garmin Edge 810 because I didn't want to get lost in Malaysia. =)
the much-needed breaks
The ride was generally pleasant and on good roads. There were some sketchy bits in Malaysia (riding through the expressway and the pot holes) but overall, nothing that a Filipino cyclist can't handle. *wink* Anyway, today's ride is a good simulation of PBP. Considering that we had to cross borders (from Singapore to Malaysia and back going through passport control and immigration on your bikes!), cycle through 41 degree heat going out and go through thunderstorms on the way back, fix my 2 tire punctures, endure my husband's front derailleur problems and battle out strong headwinds and crosswinds in Malaysia, I was so happy to finish in 13 hrs and 20 mins. It was definitely a great ride! Most portions are quite scenic and the company was just great!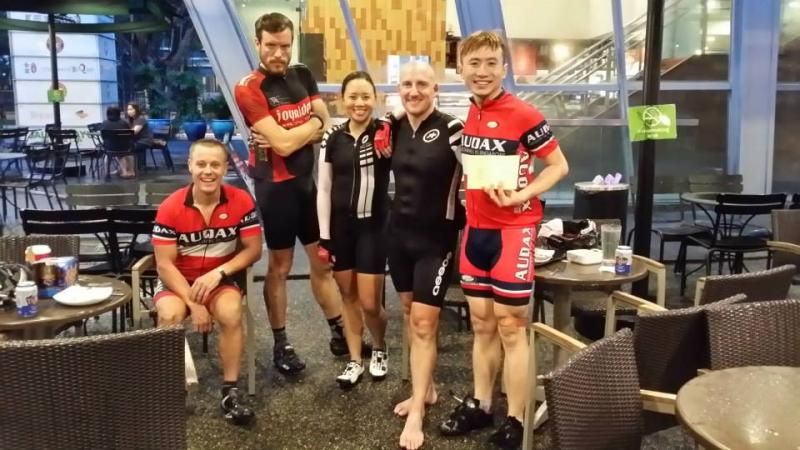 300km Audax Singapore... done!
Anyway, I am setting my eyes on doing the 400km audax in Singapore but it still depends on how my work and family schedule will look like as we near the date. One thing's for sure, I had so much fun and I can't wait to be riding with this great bunch of people again! Thank you
Audax Randonneurs Singapore
for ending my 2014 Audax season with a bang! =)
More photos from the camera of Lawrence Loh can be found
HERE
.
It's been awhile since I've ridden in Singapore. Leading up this weekend, I wasn't sure how my body will perform since I've just done a 200km Audax the previous Saturday. However, I was also excited. I was going back to my roots.
King of the Mountain Ipoh Race
. I have been sick the past week. There were 4 people in my house that had a terrible bout of flu - my grandmother, my uncle, my kid sister and my mom. It was just a matter of time that I also get the bug no matter how much care I took... taking lots of fluids, eating healthily, avoiding contact and taking Berocca three times a day. I got so sick last Wednesday evening that I spent the whole day in bed and couldn't even drive myself around town. =(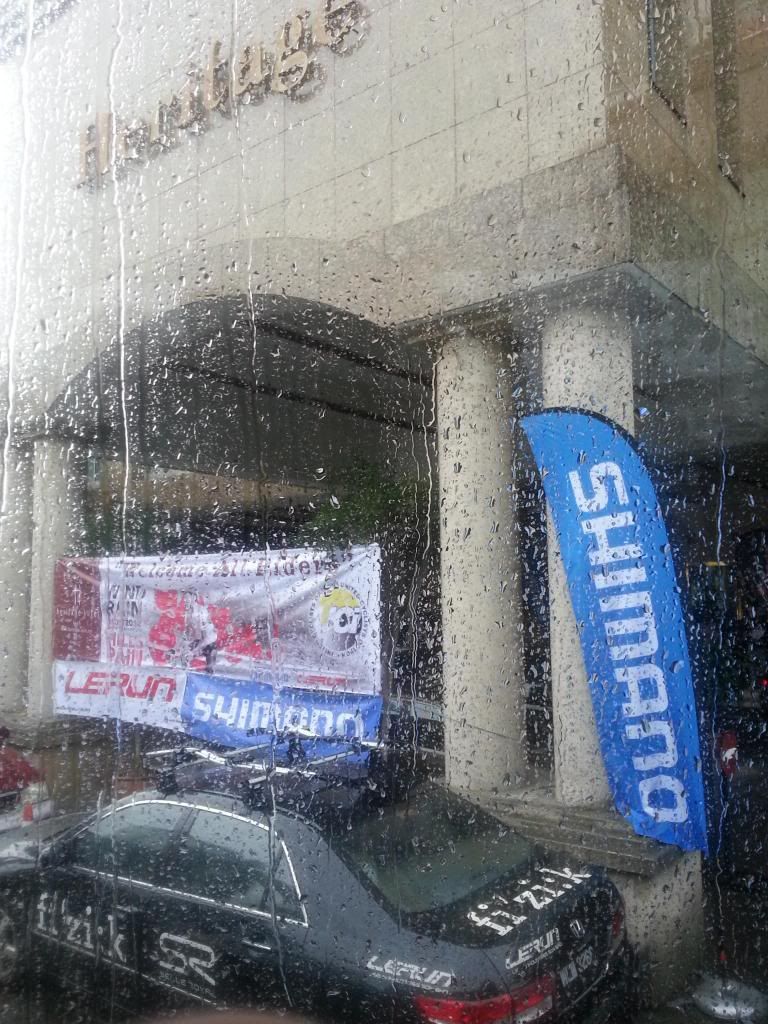 arriving at the race hotel in Ipoh
I felt better last Friday and decided to give it a go. I just needed to take care of myself and see how it goes. I met up with the team at the parking lot of Dempsey Hill at 5am. Unlike Manila, it was still pitch dark but the Joyriders Club and Joyriders Racing Team are both in high-spirits. We had 2 big buses and we all felt like a professional team. =P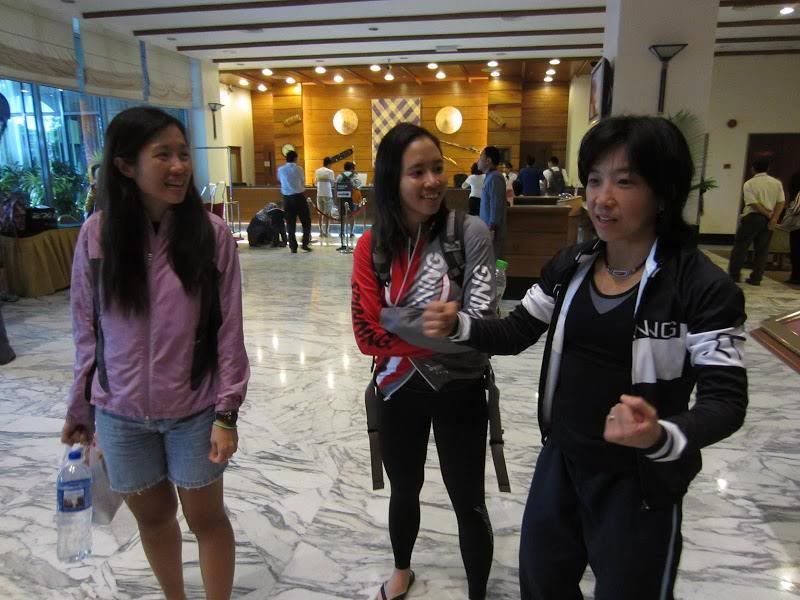 just before the race briefing with lynette and chris
The 10-hour bus ride went by so fast. We stopped thrice at famous food stops and I got to taste local delicacies of the region. My favorite will still be the Malaysian duck rice. =) We arrived at the
Heritage Hotel Ipoh
on a rainy Saturday afternoon. It was quite chilly as well and I wasn't feeling fantastic. Christina brought me a spare jumper which kept me warm the whole trip. (Thanks Chris!) The happy disposition of the team gave me enough energy not to be sick. We collected our race packets in cool Shimano bags and saw the new cool Shimano products being displayed. The team booked me my own big room with a big comfortable bed. I managed to squeeze in an hour of nap just before dinner. =)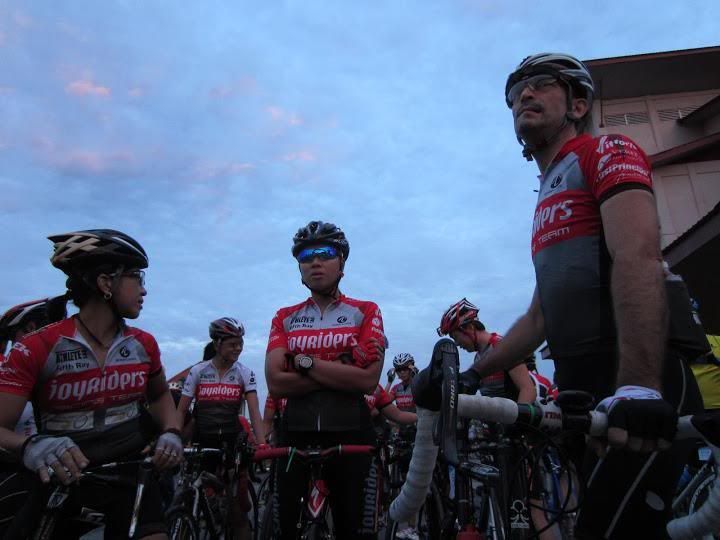 just before the race with chris and stefano
The morning of the race felt grim. It was still pitch-dark when we arrived at the start of the race (roughly 7km from the race hotel). The race would entail 45 kilometers of climbing and I was praying to the cycling Gods to help me survive the day. They said there will be a 22 kilometer neutral which was perfect to warm-up the legs. There were 700 cyclists and everyone will be released together... Yikes! When the gun started, the group surged and what was supposedly considered as a neutral zone went so fast! I've never ridden 40-45 kph during a neutral! It was a little chaotic at first. Kevin, Louis and Wei (we call him the Korean super star!) were guiding me and making sure I was fine. They were leading me out and made sure I am still in the pack. I think they did a really great job. Thanks guys!
scenic route (photo credit: cycling malaysia)
I felt quite fine 30km into the race. After that, I suddenly felt sick. I tried to take my gels and water religiously but they can't seem to be absorbed by my body. At the 45th kilometer, just after the feeding station, I had to stop. I started vomiting at the side of the road and got picked up by the ambulance. The medics were nice but I had a terrible time communicating with them what I was feeling since they can't understand and talk in English very well. They packed my bike and asked me not to continue anymore. They brought me to the finish where the JRT bus is waiting for us. I felt terrible for not finishing and felt even worse with all the vomiting I've done. =(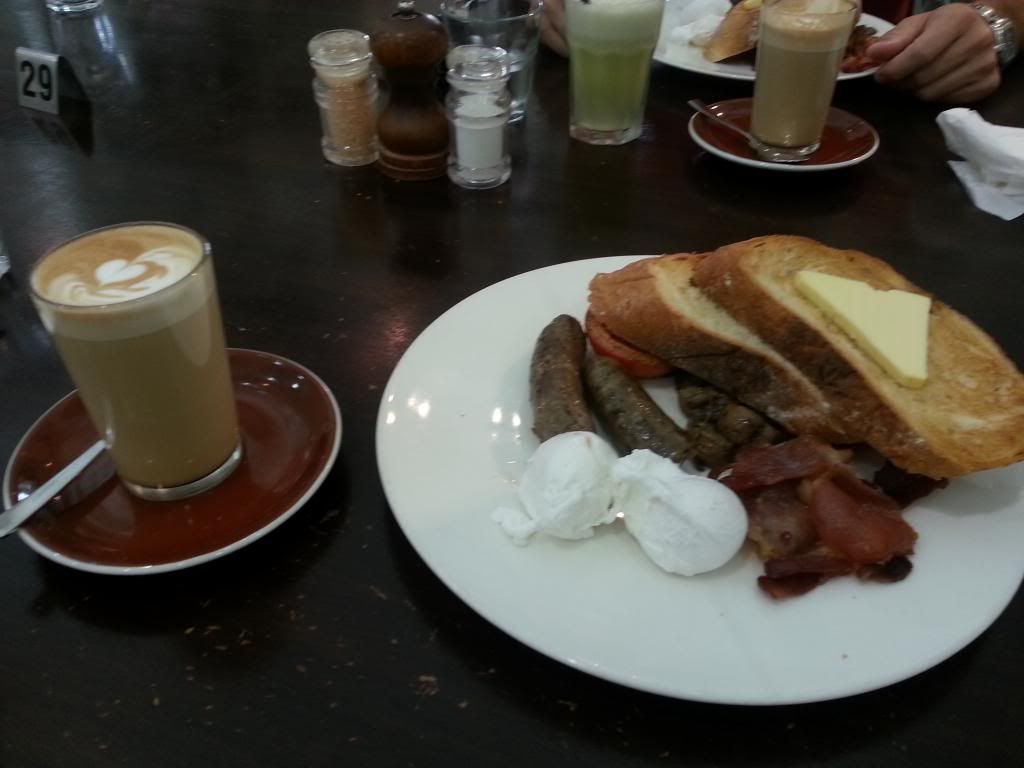 Big Breakfast at Jones the Grocer... How I've missed you!
Christina picked me up from the ambulance and brought me to the bus where everyone was so nice and offering me food and drinks. At the finish line, the organizers were serving KFC fried chicken for everyone and we managed to find a table and eat together as a team. While I am slowly gaining back my energy, we all watched the awarding where the team did a great job. Stefano placed 3rd in his 50 and above age category, Wendy bagged the 3rd spot for the women's category and Fancy won first overall beating a lot of the local climbers who know the road like the back of their hand!
Maski may sakit ako
, I can't help but still feel energized and happy for the great results! That 45-kilometer ride was no joke! =)
The drive going back to Singapore was quite smooth. We got back at Singapore at close to midnight and I was glad to see Colin at Dempsey Hill when we got there. He gave me a big bear hug and told me that he's going to take care of me now. Awww... I'm such a lucky duck! LOL! I had a good long sleep last night. Colin and I had a nice walk to Dempsey Hill and enjoyed the big breakfast from
Jones the Grocer
. It's all good! I gave Colin a blow-by-blow account of what happened and he gave his 2-cents on a lot of areas. He reminded me that cycling is just a hobby and at the end of the day, one bad race shouldn't really put one down. I'm sure I'll have a lot of lousy races in the future but the important thing is that I know how to set my mind and go back to the basics of why I'm cycling in the first place... to know one's self, to be physically active and healthy and lately, to share the experience not just with friends but also with my ever-supportive fiance.
Naks!
Even if I didn't finish the race and felt sick, I felt like a million bucks! LOL!
More photos of the 2012 Ipoh King of the Mountain race can be found
HERE
.
I had my reservations coming to Singapore this weekend and taking a 10-hour bus ride with my Singapore-based cycling team to join the
Current Mood:

calm
The Beautiful Coastal Route
After breakfast, I realized that I don't have my passport with me.
Tsk tsk! Very bad Mela!
I was in panic-mode. However, Colin and Dylan were very cool about it and suggested that we do extra mileage around the area while waiting for my passport to arrive. When it finally came, we were done with 60km and were ready to ride the bum boat going to Desaru. While the boat seemed rickety, the 45-minute ride to Pengerang was very pleasant and we were blessed with really nice weather.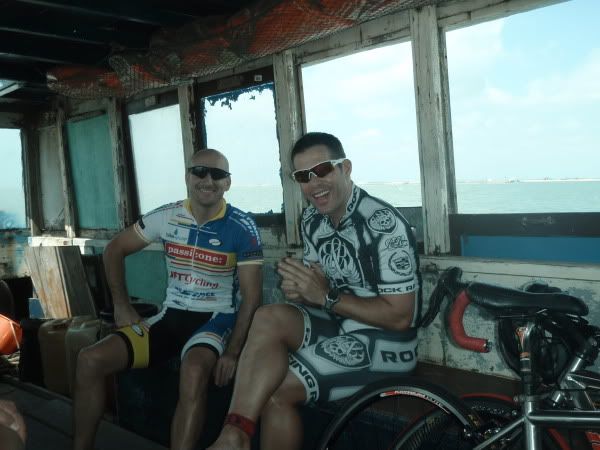 Colin and Dylan inside the Bum Boat
Upon arrival at Pengerang, we biked through 60 kilometers to Desaru. We battled through strong headwinds but the scenic coastal road was so worth it! The beaches were still pristine with very little commercial establishments. We felt we were the only ones in the area during most of the ride and it was like a reconnaisance ride for me. The paved roads and the breathtaking views were really nice. Oh how I wish my closest cycling friends were with me to enjoy this route. Perhaps someday! =)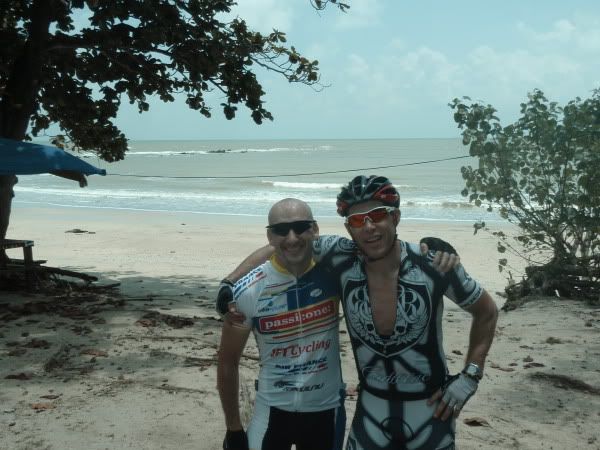 by the pristine beach
20km from Desaru, I started to feel hunger pangs. I seem to have lost my energy. It was a good thing that I was with "A-grade" riders who were very patient to pull until our lunch stop and turnaround point in Desaru. The resort was very big and quite impressive. It seemed that we were the only guests in the place. We ordered around 6 main courses and lots of drinks. The ride definitely made us very hungry and we devoured our lunch in such a short time! =)
At the turnaround point, Lotus Desaru Beach Resort
With enough energy, we tackled the ride back and enjoyed a great tail wind. We were cruising at such a nice speed. Upon the 150th kilometer mark, I started to feel some cramps on my right leg. Dylan introduced me to this "magic Thai solution" that INSTANTLY removed my cramps. It was just amazing! I made a mental note to buy lots of those when I get to Thailand! Upon arrival in Singapore, we had to bike through torrential rain for a short period of time. I was starting to feel exhausted but quite glad that the ride is just about to be over.
Dried up and quite hungry for dinner, I am thankful for today's ride and the great company that came with it. Now, I'm off to a nice pizza place in Holland Village called Da Paolo Pizza Bar. I can't wait to satisfy my growling stomach! =)
Colin and Dylan were nice enough to help me "prep" up for my Audax rides. We did a liesurely 206km ride from Singapore to Desaru in Malaysia and back. We started pedalling by 6am and met up with David Bellette, who escorted us until Changi village. Upon reaching Changi village, we had a sumptuous breakfast of Indian cuisine. I'm not a fan of curry but this was an interesting and yummy surprise for me. Simple, exotic, tasty and very filling. I'll definitely try the roti prata again! =)
Current Mood:

energetic
PARIS-BREST-PARIS
(PBP) is the epitome of amateur cycling. This is the most famous long distance randonnée in the world's history and
it only happens every four years
. For every PBP, there are more than 10,000 aspirants all over the world but only around 5,000 will be allowed to join this prestigious cycling event. In my opinion, this will most probably be the closest thing to the Tour de France that I can participate in...
Hay, ang sarap mangarap!
Participants for the Audax 200km Ride on July 3, 2010
There are 4 qualifying rides to be done to ensure a slot in the PBP in August 2011. One must accomplish 4 sanctioned brevets of 200km, 300km, 400km and 600km distances from November 2010 to May 2011 within cut-off time. To pre-qualify for the registration, one should finish a brevet within 2010. And this is exactly what me, Joyette, Popo, Nina, Marita, Coach Gado, Redg and Diego did this morning.
Jean-Francois briefing everyone for the day's ride
We were to tackle 200km this morning from Singapore to Malaysia and back. We all met up at Longhouse Food Court along Upper Thomson road at around 530am for the briefing. We were given our very own brevet cards. These cards are stamped at certain control points to ensure that you really did the distance. We started pedalling at around 6:15am. To make this ride more challenging, we had to go through the famous and dreaded Kulai hills. These hills are not as steep and as long like the ones we have back home (like Tagaytay-Payapa or Aguinaldo or Amadeo or even Bugarin). However, what makes this route tough is the seemingly neverending rolling hills. One's patience will really be tested and it did test ours this morning...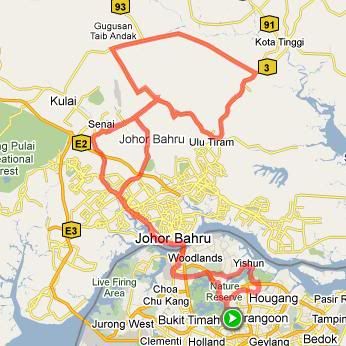 The Route
Now, in the comforts of my hotel room, I can't help but look back to what we just did. It was just hours ago when we were biking from the very urban Singapore to the very rural areas of Malaysia. It was just hours ago when we were going through the borders on our bikes. It was just hours ago when we were negotiating the Kulai hills. Today's ride was relatively fast. On the average, these types of rides finish at around 4pm. The fast riders usually finish at around 1:30pm. Cut-off time at Longhouse is at 8:30pm. And I'm glad to say, that Team David's Salon with Coach Gado and Redg finished the ride and had our brevet cards stamped at exactly 2:48pm. Not bad!!!
At the first compression stop
The roads were very nice and the scenery in the rural areas of Malaysia were serene. I made the mistake of not having any breakfast since I thought the pace would be slower (just like the one I did last year) and that we would have frequent stops for food. I was dreadfully mistaken. I was having these hunger pangs on the 50th kilometer and I was slowing down. I had to draft behind Joyette and Nina because I can't pull any longer. It was a good thing my teammates didn't leave me. At times, Joyette would slow down to make sure I'm ok. That really saved me. Thanks Yet!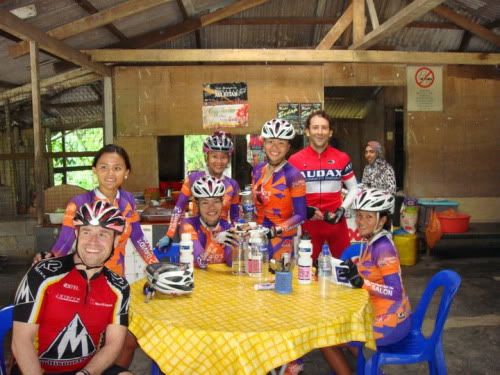 At the second refreshment stop at 90+ kilometers
When we finally arrived at Longhouse, I was relieved and ecstatic. I can't believe we all finished at a very good time. We did it all together! We were on a high as we enjoyed our very late lunch. I devoured my duck rice in less than 5 minutes! We all sat down and exchanged stories and we were so happy to learn more about amateur cycling (perhaps this is equivalent to executive cycling here in the Philippines) in Singapore. Jean-Francois is one of the pioneers of long distance road cycling in Singapore and is one of the founders of ANZA Cycling. He created his own cycling team called JFT Cycling and has been very active in the community. It was truly inspiring to hear this expat share his story of why he loves the sport so much and why he continues to give back to the very sport that saved his life. =)
Aaahhhh...beautiful beautiful roads and scenery!
Singapore has been drenched with rain for the past few weeks and they kept on saying that the Filipino cyclists this morning brought good cycling weather. It was indeed perfect - overcast but no rains. We had the almost-perfect road and terrain for our first 200km Audax ride. And we had great company and new-found friends in the cycling community here in Singapore. I love doing long rides more than cycling races and this was just PERFECT!
Done and Stamped at Longhouse at 2:48pm!
I'm not certain if we can really make it to the Paris-Brest-Paris ride in 2011. But I'm just as glad that we all took the first step and hopefully be able to bring the accredited rides to the Philippines very soon. So, who's up for the next 300km challenge? Hehehe...
Last year, when Tintin presented the idea of doing 1200km within 90 hours in France on the bike, I got excited. I was itching to do it! The
Current Mood:

grateful
Sharing a Beer with Tin at Brewerkz
I spent an entire afternoon with Tintin. It was nice to see her enjoying her life in her new home country. I caught up with JC after her work at NTU over a Singaporean dinner and sinful ice cream. I enjoyed dinner with TJ and Kenny at the Seletar country club overlooking the sprawling fairway. We ate al fresco and was lucky to have good weather minus the usual humidity that Singapore is known for. I shared beer and burgers with new-found cycling friends after a very long ride. =)
Catching up with JC at the Ion Mall
When I mentioned to Miggy a week before my trip that I will be leaving for Singapore. The first thing that he mentioned was how great the food is. I agree. My trip was definitely somehow centered on food. I've never enjoyed their local dishes until this trip. I was re-introduced to the hainanese chicken and the char kwey teow. I stayed away from the commercial establishments and heed the lead of Kenny and TJ when it comes to selecting a good restaurant. I somehow felt that I gained the calories back after my ride! Hehehe...
With my dinner hosts at Seletar Country Club
Speaking of food... I discovered something very interesting at the Changi airport. In all my travels, I consider this terminal one of the best in the world. With its many food establishments, stores, and recreational facilities (from gyms, to chapels, to massage areas, in-house hotel, etc.), staying here hours before my flight has always been pleasant. Anyway, I had a very good late lunch before my flight at the airport's staff canteen! I passed through the backdoors since this area isn't open to the public. I had to go through the kitchen which was very clean. This canteen is where one can find authentic Singaporean dishes at very affordable prices. Here, you dine with the immigration officers, the crew and other folks who are responsible in making Changi one of the nicest airports in the world. =)
Airport Staff Canteen in Changi Airport
For every new country I go to, I try to make time to check out the local bike shops. I went to Treknology, Bike Connection, Rodalink, the Specialized shops at Tay Junction, Cycleworx and Bikehaus. Whew! I'm always on the lookout for Italian women-specific jerseys and I wasn't disappointed. It was also good timing that I was in Singapore for the Singapore National Cycling Championships. Those Malaysian lady cyclists are just mad women on the road! The 140km criterium race for the men's elite was also very impressive! Shucks!
Airport Staff Canteen Kitchen
This trip got me thinking about golf. I used to play with my dad when he was still around but that was around 11-12 years ago. And with no one in the family making the most of our country club memberships, this looks like a good stage in my life to start. Hmmm... Well, let's see in the next few months...
This trip is the best Singapore experience I've had to date. Next time, I'll make sure I catch a good theater production and still do a good endurance workout. If asked if I enjoyed my trip, I did. If asked if I would be coming back soon, I hope so. =)
My trip to Singapore is different compared to the ones I've done in the past. It wasn't 'touristy' or even business-related. It's definitely not even about shopping. It was about catching up with friends and discovering what else Singapore has to offer. Needless to say, I wasn't disappointed.
Current Mood:

content
Burnt (but still yummy) breakfast prepared by Tin!
I woke up really early to go to Tin's place at Upper Thomson Road. Upon my arrival, Dirk and Tin were up. Dirk was nice enough to assemble my bike and pump up the tires by the time I got there. Tintin was gracious enough to prepare breakfast. When Tin brought out a batch of burnt bread, Dirk jokingly remarked, "look what I have to put up with everyday!". Hehehe!
The group at Longhouse: Rene, Dirk, Gareth, Anita, Tin and me
The normal meet-up place for cyclists is the famous Longhouse joint at 6am. Dirk, Tin and I met up with the rest of the folks who will be joining us for the ride. These cyclists are all members of the ANZA cycling team based in Singapore. I've met some ANZA cyclists in Thailand during
my TOUR of EGAT experience
in 2008. And they are truly a force to reckon with in cycling.
Mukhang napasubo ako!
Lining up in the motorcycle lane at the Singapore-Malaysia border at Causeway
We did a good 22km ride within Singapore before we reached the Singapore-Malaysia border. We had to line up with the motorcycles to get past through the border. It was a different experience altogether crossing countries on our bikes! We had to go through the usual immigration and security checks. Everything was so new to me and I find it quite fascinating. =)
In Malaysia!
Upon entering Malaysia, we had to bike through the national highway! Think SCTEX and NLEX! There were cars that were just so fast! We had to ride together in our small peloton to avoid being bullied. It was a good thing that our Caucasian friends are tall guys that made an impression on the road. This part of the ride reminded me so much of the last leg of Tour of Egat. I remember having to ride through the main highway leading to Bangkok. But it was much safer back then since we had motorcycle escorts. This time, we were on our own...
Pumping Real Hard! Hahaha!
Rene, Dirk and Gareth were such gentlemen. We encountered 4 flats during the entire ride and they were very nice to fix it. They also made sure everyone was doing fine and that no one gets left behind. They were very
maalaga
. They kept this very positive and light atmosphere. It was so easy to be oneself around these guys. Considering they're expats in Singapore, they were very down-to-earth. Quite admirable really...
Who'd ever thought that tubes can be used for jumprope?
I had fun riding with Tintin and Anita as well. There were just a lot of things to talk about...from cycling and life in Singapore. Since Anita can speak Malay, it was so easy to transact with the Malaysians through the ride. There were a lot of funny moments too! Whenever we encountered a flat, we made the most out of the waiting time by joking around! They can be very hilarious! =P
Post-ride celebration of burgers and beer at Brewerkz
The 194km rolling terrain went by unnoticed. It didn't seem that long during and even after the ride. We encountered both hot and cold weather with heavy rains. We had a sumptuous lunch at Orchard Golf at the 112th kilometer. We shared stories and laughed our hearts out during this ride. I couldn't have chosen a better set of friends to do this long ride with. Thanks to ANZA cyclists, Dirk, Rene, Gareth, Anita and Tin! It was truly an experience and I will definitely be coming back for more! =)
As I write this entry in the comforts of my hotel room here in Singapore, I am dead tired. I can't fall asleep because my heart is still pulpitating from today's ride. My body temperature is definitely up. And I am still on a high for finishing my longest training/endurance ride to date. I can't believe I spent 7.5 hours on my saddle tackling the 194km rolling terrain from Singapore to Malaysia and back. Today's ride was exhilarating!
Current Mood:

ecstatic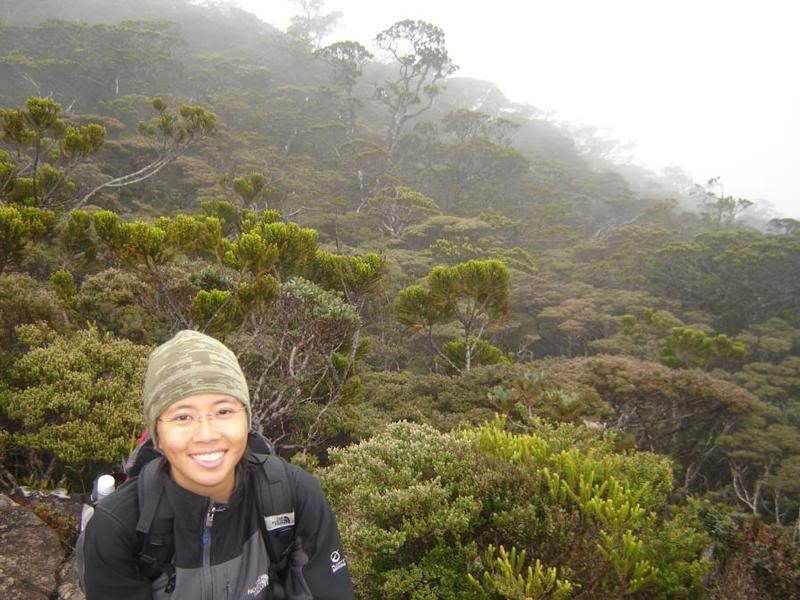 On my way up Kinabalu
Last Wednesday, I flew to Malaysia with the sole reason to spend some time in the outdoors. I wanted to explore the famous Kinabalu Park which can be likened to our very own Tubbataha. Its land area is bigger than the whole country of Singapore and it is a site full of stunning flora and fauna. If Tubbataha is known for its marine biodiversity, Kinabalu Park is known for its botanical riches. It's the site of the Rafflesia, exotic orchids and the Pitcher Plants. I was really looking forward to see such species. Imagine my delight when my guide pointed out some pitcher plants along the trail to Mt. Kinabalu. My dad would have loved the place...
a pitcher plant and me
According to some reference materials, the park has more than 5000 flowering plants. This includes more than 1200 species of orchids! I feasted my eyes on such natural treasures. I loved the "bonsai forest" along the trail. Mt. Kinabalu is roughly 13,435ft (4095.2m) as opposed to the Philippines' tallest mountain, Mt. Apo, which stands at 9730.97ft (2966m). Mt. Kinabalu has 4 climate zones which explains the different vegetation (from tropical to "alpine") as I go further up the mountain.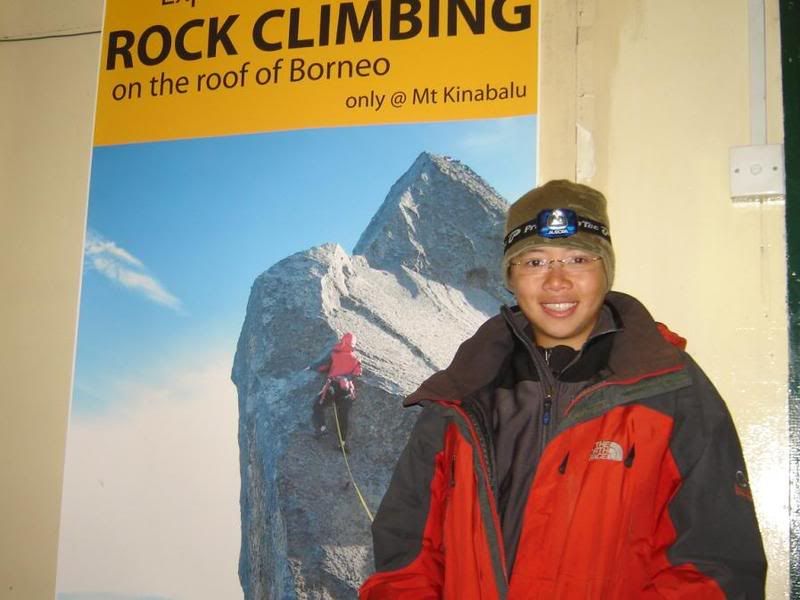 at 2:30am before the summit assault
I wanted to enjoy the entire experience and take my time on the trail. I left the jump-off point at around 9:30am and reached Laban Rata at around 2:30pm to rest for the summit assault early the next morning. The weather wasn't cooperating and temperature dropped to 2 degrees with strong gushing winds. As the rain poured and flash floods were seen rushing down the mountain, I was hoping that weather will improve the next day. There was even talk that they won't be allowing any summit attempts if weather doesn't get better.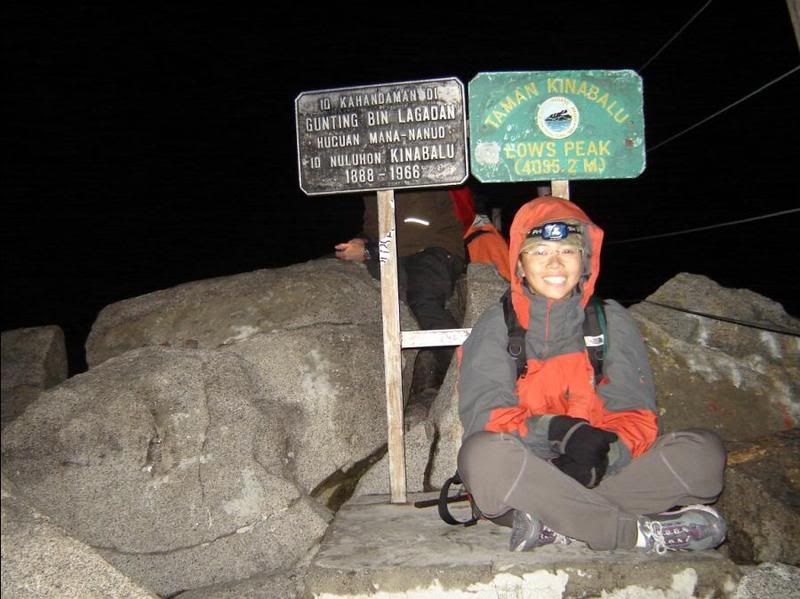 at the summit...yahoo!!!
I woke up at 2am the next day and prepared my gear for the evening hike. In the dark, I saw the beams of torch lights as the procession of climbers trudge higher and higher. It was a sight to behold! How I wish I can capture it with my camera. There was a certain silence among the climbers and to think there were probably a hundred of us (including the guides).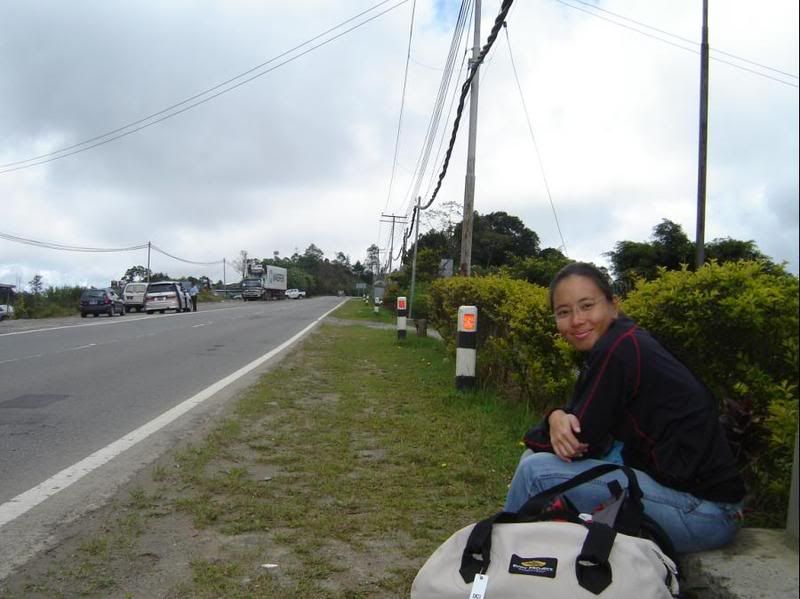 waiting for the bus
This experience brought a lot of firsts in my book. It was my first mountain adventure for the year and the first done outside the country. Compared to other mountains I've climbed in my life, Mt. Kinabalu is the highest and gave me my most extreme weather condition experience. I wore at least 4 layers of clothing (my inner shirt, a base layer, a fleece jacket and a shell jacket). I've never felt so heavy! Hehehe... The trail is well-preserved. The park officials put up wooden beams to stunt the rate of erosion. On my way up, I was thinking...
Naku! Sana ma-rehabilitate din nang ganito ang Mt. Makulot!
****warning: semi-ranting mode****
I learned a lot during this trip. First off, I wish we had the same government support as that of Malaysia in protecting their natural world heritage sites. I am always saddened by news that a lot of poaching and illegal work has been happening in Tubbataha. Since 2006, I've boycotted a lot of restaurants (like North Park, Portico, etc.) for serving Napoleon Wrasse (Dang! They should know better!!! Even if they have stopped serving such, they still should have known better. Whatever happened to due diligence and social responsibility?).
As I tried to immerse myself in Malaysia and walk through their semi wet markets, I saw stalls selling shark's fins. I was just appalled with what I saw.
Nakakaiyak how insensitive humanity has become.
And to think that we humans are supposed to be the smarter species walking on this planet! Photos and videos of dolphin killings and whale hunting popped in my head. I wanted to find a corner and cry.
Nakakainis na talaga...
Hay, let me stop myself before I get too emotional...
As I was finishing my cup of tea in a coffeeshop along the bay of Kota Kinabalu, I saw a raptor flying up high over the water. It glided so gracefully. They barely flap their wings and I was just amazed on how keen they can read the wind. I wonder if it's an eagle or a hawk. There were also a lot of egrets flying by as well.
Ang ganda nila tingnan...
Anyway, I'm glad on how I spent my holy week. I wanted this long weekend to count. I wanted to be grateful and realize how blessed we truly are. I am not a religious person (Much to my grandmother's disappointment, I rarely hear mass. I just don't feel comfortable with the routine.) But I do acknowledge His presence and I try to make the most out of the life He gave me. More work to be done...
I've been craving for the mountains since the start of the year. Compared to my love for cycling, climbing is different in a way that it gives me a sense of peace that I don't find in any other endeavor. Perhaps it's the idea that I see God more in nature than in the church. I feel his presence and his abundant blessings when I see my surrounding greens. I am still amazed on how everything has been created.
Current Mood:

grateful